Since Valorant is a free-to-play title on PC and developed by a huge company like Riot Games, a large portion of players will eventually download it and start hopping in. However, not every one of these players will have a $2,000, high-end gaming machine to earn those crispy 144+ frames. In fact, more of the community is probably gaming on mid to low-end PCs, which won't be able to reach that high of an FPS. If you're middling around in this crowd and looking for a way to get higher frames, look no further than Run It Back's latest guide.
Earning higher frames in Valorant
Before we go over any tips to increase FPS in Valorant, we need to establish the minimum specifications to run the title. While the minimum specs can certainly run Valorant, it's generally agreed upon that you want hardware a little above these specs.
Minimum Specs
OS: Windows 7, 8 or 10 64-bit
RAM: 4GB
VRAM: 1GB
CPU: Intel Core 2 Duo E8400
GPU: Intel HD 4000
Luckily for most, you only need one stick of 4GB RAM to run Valorant. That seems to be the most advanced piece of hardware on the list though, as the CPU and GPU can be found for extremely cheap on any major retail website.
So, if you meet or exceed these requirements, then you're in business, and can begin to look at ways of improving your FPS.
Lowering your settings
The first step you should take when trying to earn higher FPS is lowering your graphical settings. While it is nice to see the maps and guns in all of their crisp, rendered glory, they're not as important as FPS. So, if you're not reaching at least 45-50 FPS, make sure to turn down every graphical setting to "Low" or "Off".
Although, if you have hardware more above the minimum specs, you can most likely bump up the graphics settings to "Medium". Of course, you can mess around with each setting to see what your PC can handle.
Tinkering with your GPU settings
When trying to improve FPS, most players stop at simply lowering their settings. However, that's not the only trick you can do to earn better frames. If you have any Nvidia or AMD graphics card, you can head into the dedicated software to do some more fine-tuning.
For this guide, we'll be looking at the Nvidia Control Panel only. Although, AMD has a very similar setup, so you can apply this to that software as well. You can locate the Nvidia Control Panel by simply right-clicking on your home screen and selecting the software from the drop-down menu.
This should take you to the Control Panel, where you want to head into "Manage 3D Settings" on the left-hand side. From here, select "Program Settings", then click "Add", and finally hit Valorant.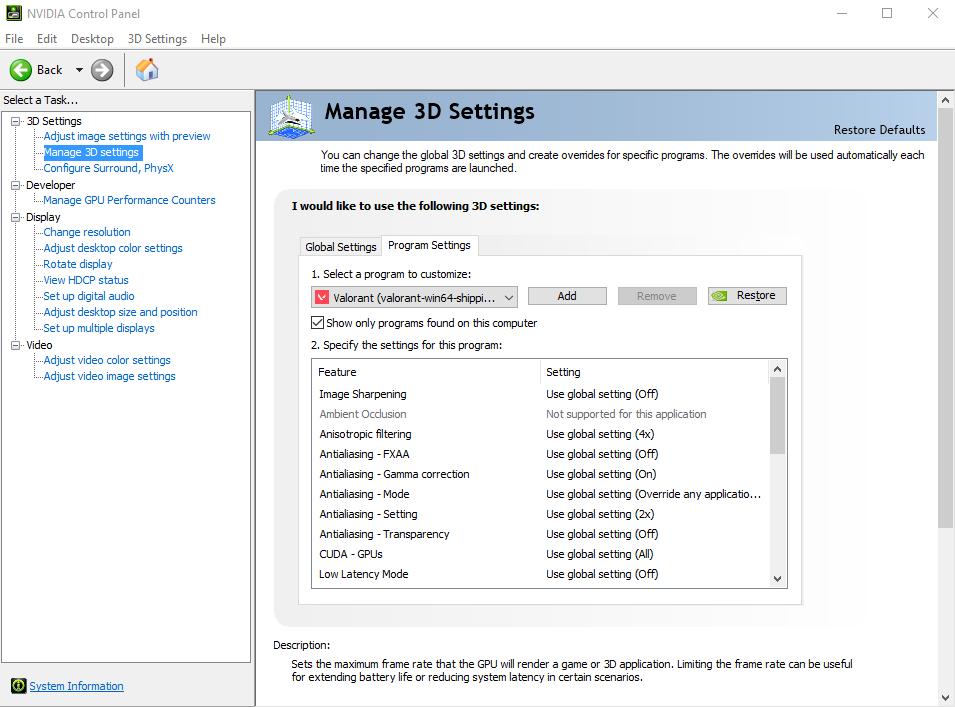 Once you see the page above, make the following changes to the settings (make sure to hit "Apply" after the changes are made:
Anisotropic Filtering: 2x
Vertical Sync: Off
Threaded Optimization: On
Preferred Refresh Rate: Highest Available
Power Management Mode: Prefer Maximum Performance
Maximum Pre-Rendered Frames: 1
Beyond the above steps, there's not much else you can do to improve FPS. If you really need one or two extra frames, make sure every non-essential application on your PC is closed, as this does affect how much RAM is available for Valorant.
Let us know if this guide helped you in the comments below! Make sure to bookmark Run It Back for future guides, exclusive interviews, and all other things Valorant.